Growth heterogeneity and welfare; Behavioural differences in small and large broiler breeder females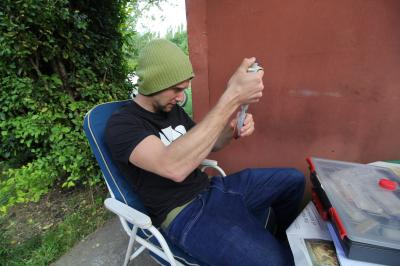 Hi!
Welcome to my web page, I´m glad that you are interested in learning more about me and about my master's thesis!
My name is Johan Jönsson and for 5 years I have been studying biology with focus on animal physiology and ethology at Linköpings Universitet. Having grown up on a commercial farm on the Swedish country side, I have during my studies always been the most interested issues regarding the welfare of farm animals.
Before moving into the master's program called  "Applied Ethology & Animal Behaviour"  I acquired a Bachelors degree through a study on stereotypic and abnormal social behaviours in finisher pigs. To earn my master's degree I have over the course of one year been working within a project that is targeting some of the welfare challenges of broiler breeder rearing. This project have been conducted in collaboration with the industry, and the majority of the experiments have been carried out at a commercial broiler breeder farm. I personally find this type of research to be very important as it is a way of bridging the gap between the industry and the academic world. Establishing a dialogue between these two parties is going to be critical in order to successfully solve present and future welfare challenges.
I sincerely hope that you will enjoy reading about my work, and if you have any questions just contact me and I will do my very best to answer them!
Regards
//Johan 

Responsible for this page: Director of undergraduate studies Biology
Last updated: 05/19/15