Laura van Zonneveld
Author of: The importance of acoustic enrichment for bottlenose dolphins (Tursiops truncatus) in human care.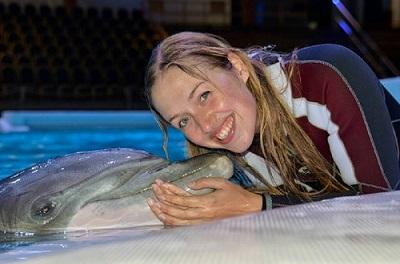 Hello and welcome to my webpage!
My name is Laura van Zonneveld, I am from the Netherlands and have been studying my Masters Applied Ethology and Animal Biology in Linköping University during these last 2 years.
I have a background in animal health, welfare and ecology. I am particularly interested in animal behaviour and the conservation of species, and this is the main reason why I decided to follow this program.
During the last year of my study I was very fortunate to do my thesis with Mats Amundin at Kolmården zoo.
Here I studied the echolocation behaviour of the dolphin group as well as providing them with acoustic enrichment to enhance their welfare.
We found some very interesting and suprising results which are all presented on this webpage as well as a more detailed description in the downloadable report.
For any questions, you can find my contact details on the contact page!


 

Responsible for this page: Director of undergraduate studies Biology
Last updated: 05/13/15